About Us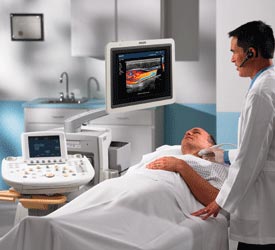 Moore Sound Imaging, LLC is a mobile ultrasound company established in 2004 by Charles Moore to provide doctor's offices in the Baton Rouge area a single solution to their diagnostic ultrasound needs. Our experienced sonographers provide premium diagnostic ultrasound for patients in the comfort and convenience of familiar surroundings.
Our professional medical staff provides "total body" ultrasound imaging – cardiac sonography, vascular sonography, abdomen/small parts, and OB/GYN. Moore Sound Imaging, LLC is your one-stop shopping solution for all of your ultrasound needs.
We understand that ultrasound exams are both technologist dependent and technology dependent. The quality and accuracy of every ultrasound exam is contingent upon both the sonographer's experience and the ultrasound equipment being used. Because of these factors our sonographers are ARDMS certified and utilize state-of-the-art ultrasound systems.
We take pride in our compassionate patient care and our reliable professional service. We look forward to hearing from you.